Great Britain are heading south for a tour of Oceania and it started last night. Tonga vs Great Britain at Waikato Stadium in New Zealand.
Kickoff
To start the game, the kickoff went out on the full off the boot of Tuimoala Lolohea!
We had some great free-flowing international footy in this game.
Both sides had chances but the defence of Mate Ma'a Tonga and the Great Britain Lions held up strong for a long time.
We had everything from big hits to linebreaks to great second phase footy in our nil-all period which lasted half an hour!
30 minutes in, on the last tackle, Sione Katoa stepped around from dummyhalf and put a grubber through which was toed backwards by the Lions.
Lachlan Coote took heavy contact when he recovered the ball and he knocked on.
Tui Lolohea picked it up and gave it John Asiata who passed to Michael Jennings to get first points in the game! Sio Siua Taukeiaho converted for the 6-0 lead!
On the buzzer, Tonga had the ball, 30 metres out.
Refusing to let it die, they kept it alive and kept the second phase going until Will Hopoate went to the sideline and offloaded inside to Michael Jennings.
Jennings put a kick through and Sione Katoa got to it to extend the lead!
Sio Siua Taukeiaho converted from the left sideline to make the lead 12-0!
Half Time
Tonga 12 – 0 Great Britain
6 minutes into the second half, Great Britain were sent to the bunker for the first time.
They would be denied the try as David Fusitu'a got the ball to ground before any Great Britain chasers could get to it.
Following this, we went almost 20 minutes without any scoring before the Lions gave away a penalty after which, Sio Siua Taukeiaho kicked the penalty goal to make the lead 14-0!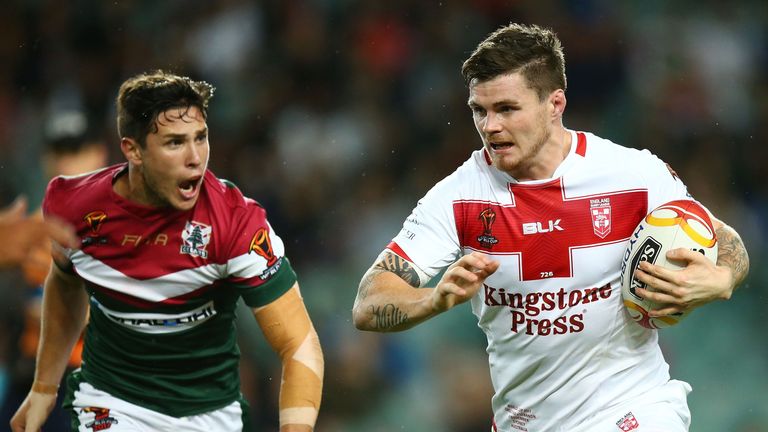 With 10 minutes left on the clock, John Bateman powered his way over for the Great Britain Lions' first points of the game!
Gareth Widdop added the 2 for the 14-6 scoreline. Tonga held on for the rest of the game with the 14-6 score.
Full Time
Tonga 14 – 6 Great Britain
Tonga have come out and out on a great performance against one of the world's best.
Great Britain lose the first game of their tour. Tonga win their first end of season test.
Great Britain will continue their tour against the New Zealand Kiwis next week.
Tonga will play the final Oceania Cup game against the Australia Kangaroos next week.