Another day, another interview. Former Wests Magpies, Wests Tigers and Huddersfield, big bopper John Skandalis! 
The former Tigers man was a prodigal son at the club and a part of their 2005 premiership success.
We spoke to him about his early rugby league memories, the 2005 grand final, post footy and more.
So sit back, enjoy another interview, and take it all in. Here is our interview with John Skandalis:
1. What are your earliest memories of rugby league?
My earliest memories were watching the Eels dominate in the 80's.
Up to the age of 14, I was a Dragons fan. I loved watching Martin Offiah and Ricky Walford play.
I also have great memories of watching the Kangaroos play in the UK in the late 80's and early 90's.
2. You made your debut with the Western Suburbs Magpies in 1996; what was your debut like and was the call-up one you were expecting it?
It was a wild night. We had about three all-in brawls (the good old days).
The game was everything I expected it to be plus more.
Hard, fast and very tough. I did train with first grade in the off season the year I made my debut, however, I wasn't expecting to be called up in the same year.
The reason I got my chance came from a season-ending injury that regular front rower, Brent Stuart, received the week before.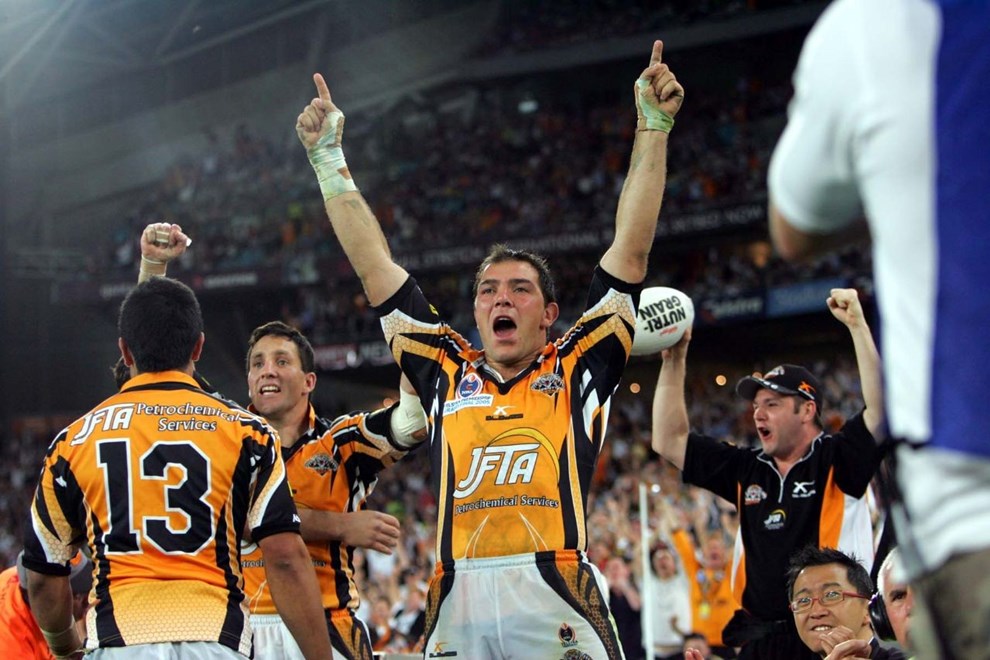 3. In 2000, Wests and Balmain merged; what was the feeling from players at that time about the merger? 
The players were excited.
We didn't really feel any Balmain-Wests divide. We were focused on having a very successful year.
4. The 2005 season for the Wests Tigers is always on everyone's mind; tell us about the grand final experience and then ultimately winning it.
The whole week was one of the best experiences of my football career.
It was great to watch the excitement from all our supporters.
As for the game, it was very emotional, I had to hold back tears when I ran onto the field.
Memories of playing for my junior league team, the Minto Cobras, were going through my head, even before the kick off.
I was feeling so privileged that I had a chance to be part of an NRL GF.
Once we had won the game, I had so many emotions running through my body, I was happy, proud, and relieved.
The win meant everything to me, from the sacrifices I'd made, the sacrifices my wife had to make for me to achieve what I achieved in my career, the lifetime of friendship I now have with my team mates, and relief that I finally got to experience.
For not only playing in a GF but actually winning it – especially after that in the beginning of the year, no one gave us a chance.
5. You also made numerous appearances for the City Origin side; how was that experience as a player.
Fantastic, I felt very fortunate to have been chosen.
I enjoyed the opportunity to play in the country areas and give some much needed Rugby League to the people who don't get to attend live games.
6. You made a move to Huddersfield before returning to the Tigers for a couple of seasons; what was English rugby league like for you and did it differ from NRL?  
I really enjoyed the experience, as did my whole family.
The game was still tough on the body, the competition probably not as strong as the NRL.
However, the UK still produces some very talented footballers as we have seen over the last decades.
7. For those that may not be aware; how have you remained involved in rugby league since your retirement as a player?
I love Rugby League; it's all I have known and been a part of for over 35 years. I especially love the Wests Tigers.
I feel very privileged to still be working for the club that has given me so many great memories. 
We are an organisation on the way up and I would like nothing better than knowing that I have helped Wests Tigers be successful, not only on the field but off it as well.
8. If you could give advice to any budding rugby league player, what would it be?
Love what you do!!
Continue to work hard on the skills that you're good at and work even harder at the ones you're not.
Do not ever be afraid to ask for help from coaches, mentors or friends.