Many fans have a second favourite team, with the popular choice being the Gold Coast Titans.
The reason for this is that, unlike their location, the Titans are mostly harmless.
Sure, they've had great players, with Preston Campbell and Mat Rogers coming to mind.
Though their honour role of three semi-final appearances in seventeen seasons is nothing to write home about.
But, this may be all about to change, with Justin Holbrook's Titans finishing fast in the 2020 season.
AJ just might be the future that Queensland are looking for
AJ Brimson is set to become more well known in 2021.
In 2020, after missing some time due to a back injury, the last portion of the season gave everyone the chance to see Brimson in action.
And boy, did he show them. Nifty, great speed, committed and a great work-rate in defence and attack, Brimson did it all.
He looked completely at home on the Origin scene and seems set to retain his spot this year with Kalyn Ponga likely to wind up somewhere else in the team.
However, what will have NRL coaches really worried will be his combination with Jamal Fogarty and Ash Taylor late in 2020.
If these three click again for the whole year, a  September appearance seems more than likely.
Is the Titans 2021 recruitment the best in the NRL?
The answer to this question depends on whether you are a quality or quantity type of person.
Unless you are a Cronulla fan and hanging on desperately to 2016 (don't worry, there was a fair bit of self-reflection in that statement), David Fifita is the best Fifita running around right now.
He's also got the potential to be the most destructive forward in the NRL, and the Titans have latched on to him for three years.
With surprising acceleration, a strong fend, and a surprisingly good step to evade defenders, Fifita has dazzled Titans fans and fans alike with his form.
On top of that though, they have signed the equally promising Tino Fa'asuamaleaui, forward Herman Ese'ese and outside back Patrick Herbert.
As for Tino Fa'asuamaleaui, he is a hard, powerful runner.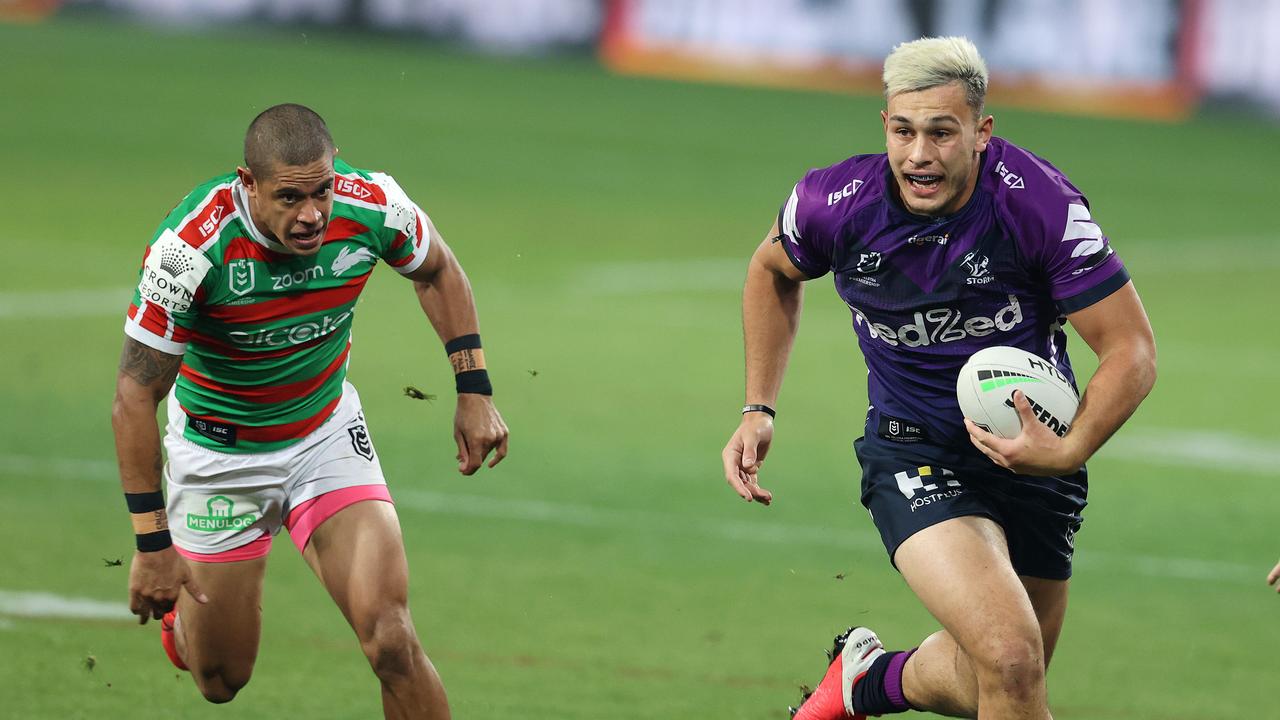 He made the lock spot his own when an opportunity arose and did not look back. In turn, he became a key part of their premiership success.
The Titans farewelled the likes of Jai Arrow and Ryan James but there is no doubt their forward back will be one of the best around this season.
The miracle worker that is Justin Holbrook
Justin Holbrook came to the Titans with big wraps after coaching St Helens to a Super League Grand Final win in 2019.
However, many thought he had bitten off more than he could chew when he signed on for the Titans.
Holbrook, in the space of just eighteen months, has revolutionised the Titans side and has the players playing his style.
A no-nonsense type of coach, Holbrook instils a belief in his players to never give up, to play their hardest, and to play for each other.
In a normal-length season, they probably make the 8. Holbrook had worked miracles, and he gets a big chance to build on that this year.
Gold Coast Titans 2021 Gains and Losses
Gains: Tino Fa'asuamaleaui (Storm), Herman Ese'ese (Knights), David Fifita (Broncos), Patrick Herbert (Warriors), Sam McIntyre (Tigers)
Losses: Jai Arrow (Rabbitohs), Shannon Boyd (retired), Ryan James (Raiders), Young Tonumaipea (rugby union), Bryce Cartwright (Eels), Keegan Hipgrave (Eels), Dale Copley (Broncos), Nathan Peats, Tyrone Roberts (released)
Player to Watch 
Ash Taylor was identified as a special rugby talent early in life and signed a contract with the Titans in 2016 when he was just 20 years old.
Two years later, he was their marquee player on reportedly more than $1 million per year. Some kids deal with that, some kids don't and Taylor struggled to live up to the expectations.
By 2019, Taylor needed time away from the game to deal with personal issues and, shortly after his return, was left out of the first-grade side for the remainder of the season.
But, in 2020, he rediscovered some form under Holbrook and finished the season well.
We may never know the reason for this but it looks like Taylor was encouraged to play what he saw in front of him and not take the results of the team on his shoulders.
With Fogarty at halfback, Taylor was able to do just that.
Playing behind a pack that will generate plenty of metres in the middle, Ash Taylor is in for a big season.
NRL News Predicted Team (at full strength)
AJ Brimson
Philip Sami
Brian Kelly
Patrick Herbert
Treymain Spry
Jamal Fogarty
Ashley Taylor
Moeaki Fotuaika
Mitch Rein
Jarrod Wallace
David Fifita
Kevin Proctor (C)
Tino Fa'asuamaleaui
Tyrone Peachey
Herman Ese'ese
Jaimin Jolliffe
Beau Fermor
Coach: Justin Holbrook.