There was so much promise for the St George Illawarra Dragons before a barbeque brought about their ultimate demise. 
Flashes of brilliance are not enough in the NRL to succeed. Sustained consistency is and the Dragons need to reach those heights.
2022 looms as an interesting year for the Red V as they have positional decisions to make that could affect their side long-term.
The fullback battle; Cody Ramsey v Tyrell Sloan
Earlier in the year, the mentality, the approach, and the talk from the Dragons was one thing. Cody Ramsey is our fullback.
This talk came after Matt Dufty fell out of favour despite some impressive performances and Ramsey had his chance to shine.
Unfortunately, he never really took the bull by the horns and although it might be his preferred position, it left Dragons fans feeling flat.
They expected plenty from Ramsey who is quick, a nice finisher, and has a ton of heart but those traits only get you so far in the NRL.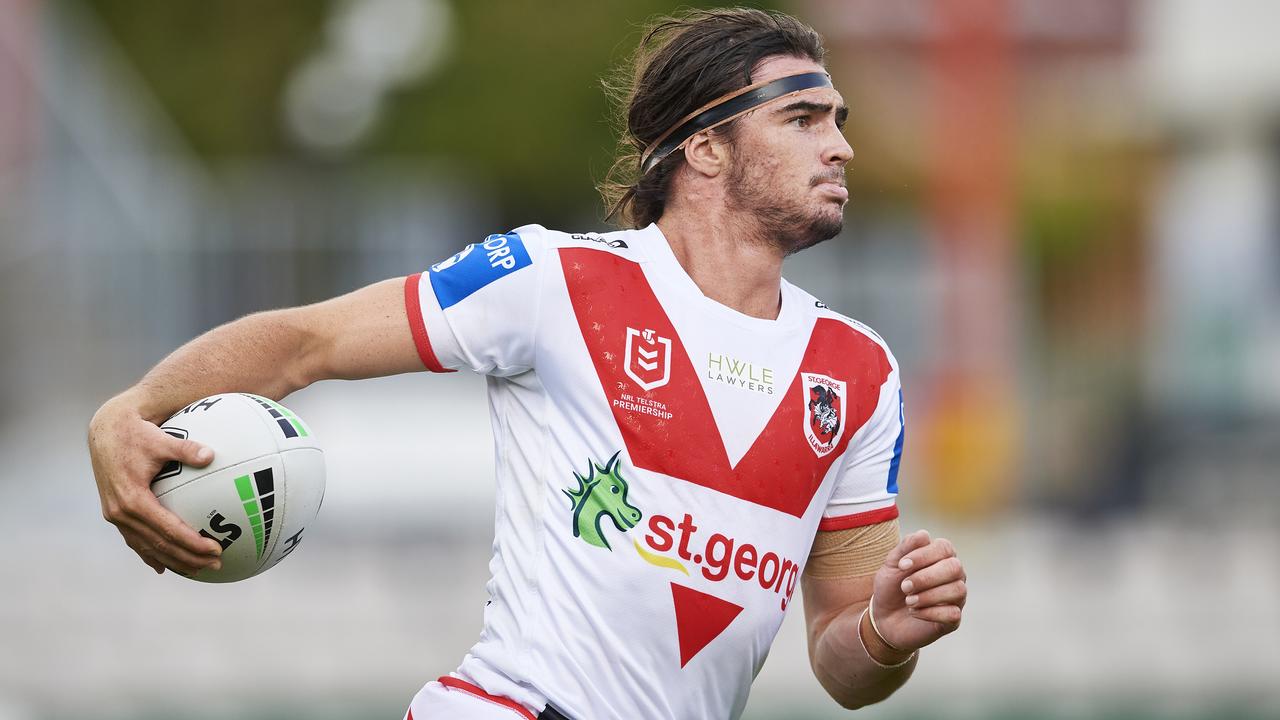 His few games at fullback had you wanting more, expecting more, and when Dufty returned, he was swiftly returned to the wing.
And it is on the wing where Ramsey, perhaps, is at his best. All eight of his tries have put his finishing abilities to good use.
Then, you have Tyrell Sloan. A highly-rated youngster who certainly showed more dynamic tendencies from the back.
A fullback's role is as much about laying the platform from kicks as it is about sustained support play.
Sloan has scored in all five of his games to date and just seems to have that x-factor that is often raved about in rugby league.
He has the smarts, the awareness, and the speed to succeed. As said above, though, his support play is exemplary.
Sloan's awareness allows him to hover around the middle in attack to sniff out opportunities and it paid dividends a few times at the back end.
Those instincts alone place him above Ramsey in the race for the fullback spot and so they should.
Who partners Hunt in the halves?
Much like the battle at fullback has questions, so too does the halves battle to partner Ben Hunt.
The Corey Norman experience did not work and as a result, he has been told he can leave.
This is understandable given you want someone that can work with and alongside Hunt regularly.
The Dragons have two primary options available to them; Jayden Sullivan and Talatau Amone.
On the surface, plenty of people might think Sullivan is the guy but Amone is a genuine smokey.
It could be said that Amone is the more explosive of the two and the craftier whereas Sullivan can be seen as more of an organiser.
With Ben Hunt fit and firing for 2022, though, do you need another organiser or someone who can feed off his play?
That will be the question for the Dragons and it will come down to how they want to play.
Most teams have a genuine organiser and then an adlib style of play. Someone who plays off the back of what they see.
If the Dragons want to emulate that sort of style, Amone would seem to be the perfect candidate.
Get Lomax the ball more frequently
There are players for all sides that, when they play, make a wholesale difference to the structure of the side for the better.
For the Dragons, Zac Lomax is that player but there is one fundamental problem.
Not from Lomax's perspective but from the Dragons and that is, they fail to get him the ball frequently.
Lomax has proven that he can be a game-breaker on many occasions and his partnership with Mikaele Ravalawa should be utilised.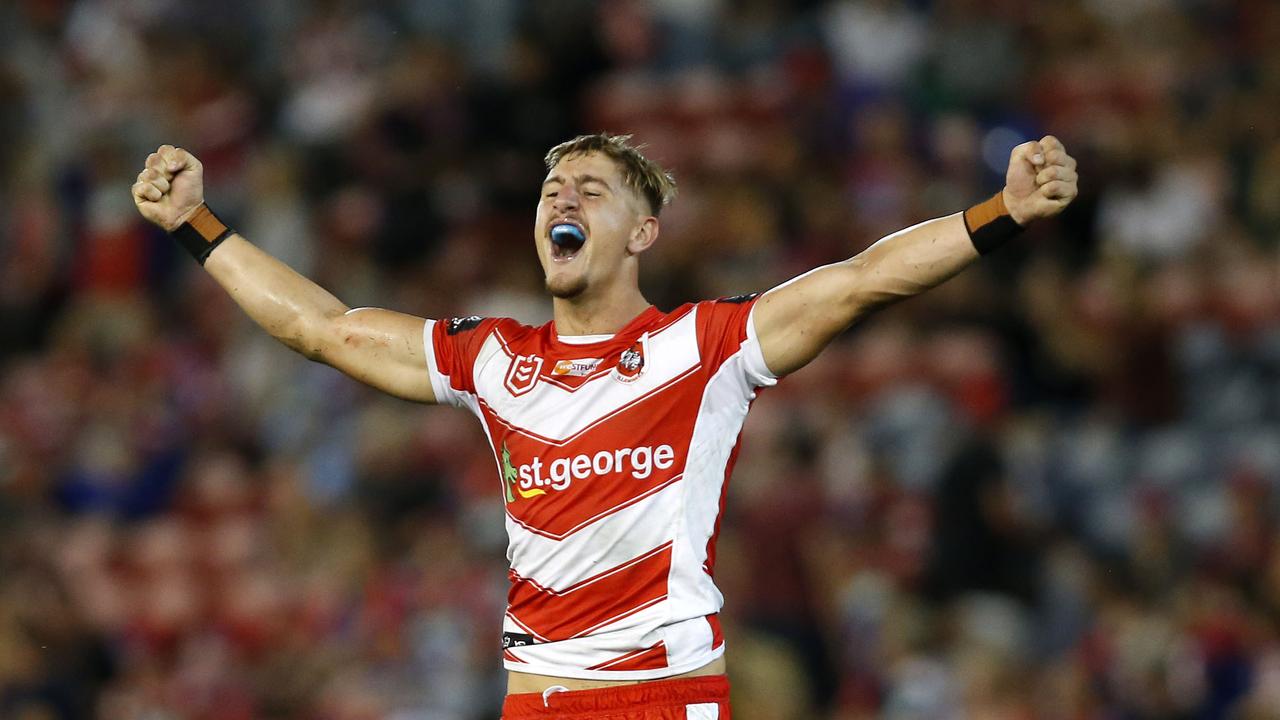 A strong yet mobile centre, Lomax has easily established his first-grade prowess and his skills need to be used effectively.
The old in-and-away is one of Lomax's most valuable assets as his ability to hold the ball up, sniff out a play, and make a pass.
Those sorts of skills are not found in every player and as much as you want to attack both sides of the field, sometimes, you need to focus on one more than the other.
Particularly when your centre and your pairing on that side to a lesser extent have such a tremendous understanding.
If the Dragons can harness Lomax's raw, game-breaking ability, and combine it with other strong assets they have, they can achieve greater consistency.
Player to Watch
Sometimes, a player needs to bounce around a bit before they find their home and Tyrell Fuimaono is that guy.
A Parramatta junior, had stints for both Penrith and South Sydney, and now has found a home – or so it seems – at the Dragons.
Though his usage at times has been rather questionable, he is capable of so much more and needs a chance to prove it.
A dynamic back-rower on the edge, Fuimaono may actually be blessed with a perfect opportunity to play given the Dragons are potentially likely to lose Tariq Sims (though that remains to be seen).
Either way, even from the bench, he is a player that brings aggression. He plays with enthusiasm and tenacity.
With several forwards perhaps lacking that or otherwise leaving or suspended, Fuimaono is a guy that can lift a side with his efforts, particularly defensively.
Much like other Dragons' players, if their ability can be effectively harnessed and then utilised, Fuimaono can succeed.
And realistically, he should be given every right to have that chance.
2022 St George Illawarra Dragons Gains and Losses
Gains: George Burgess (Wigan), Moses Mbye (Wests Tigers), Francis Molo (North Queensland Cowboys), Jaydn Su'A (South Sydney Rabbitohs), Jack Gosiewski (Manly Sea Eagles), Tautau Moga (South Sydney Rabbitohs), Shalom O'ofou (local), Moses Suli (Manly Sea Eagles), and Aaron Woods (Cronulla Sharks).
Losses: Gerard Beale (released), Eddie Blacker (Penrith Panthers), Billy Brittain (released), Adam Clune (Newcastle Knights), Matt Dufty (Canterbury Bulldogs), Kaide Ellis (Wigan), Hayden Lomax (released), Cameron McInnes (Cronulla Sharks), Trent Merrin (retired), Corey Norman (released), Jordan Pereira (Brisbane Broncos), Shaun Esani-Esau (released), Paul Vaughan (Canterbury Bulldogs) and Brayden Wiliame (rugby union).
Our 2022 predicted St George Illawarra Dragons line-up (at full strength)
1. Tyrell Sloan
2. Cody Ramsey
3. Jack Bird
4. Zac Lomax
5. Mikaele Ravalwawa
6. Talatau Amone
7. Ben Hunt (C)
8. Blake Lawrie
9. Andrew McCullough
10. Aaron Woods
11. Jaydn Su'A
12. Tyrell Fuimaono
13. Jack De Belin
14. Moses Mbye
15. George Burgess
16. Josh Kerr
17. Tariq Sims
Coach: Anthony Griffin.