Life has not been rosy for the Canberra Raiders in recent times as poor form on the field and upheaval off it has threatened to derail their momentum.
Though it is not all doom and gloom, the emergence of several youngsters puts them in a good position to build a platform.
They will need their talismanic five-eighth in Jack Wighton to lift and as rumours persist of a new halves partner, just how will that affect the Raiders?
Can Ricky Stuart pull a rabbit out of a hat for the Green Machine or will 2022 be more of the same?
The fullback conundrum
Most teams have one really solid fullback and then depth after that; players that are solid performers but not regular starters.
This is not the case at the Raiders who have three players that could all genuinely make a claim to be starting fullback in 2022.
First up, is Charnze Nicoll-Klokstad. CNK as he is nicknamed is the incumbent if you will.
It was only a long-term neck injury that saw Nicoll-Klokstad lose his spot and he will be hungry to get it back.
In what was a lean opening to the season for the Raiders, it was Nicoll-Klokstad who carried the team at times.
Those times occurred when the long-term future of George Williams was up in the air, subsequently resulting in a poor patch of form for the Raiders.
Bailey Simonsson would have been a valid option for the Raiders in the 2022 campaign.
The only downside is that he made the move to the Parramatta Eels and so will no longer don the lime green.
His departure hurts the Raiders backline depth as he would have been basically been a guaranteed starter to begin the season even if it was not at fullback.
The third and final option, and perhaps the one that everyone is raving about, is Xavier Savage.
Young but wise beyond his year, Savage showed his array of skills in two successive wins in the middle of the year.
Quick, smart, adept at reading the play, and a strong ball-runner, he had Raiders fans salivating at what could have been for them.
Unfortunately, an injury also struck Savage down but his dynamism and enthusiasm could be just what the Raiders need from the back.
It is times like these that you would not want to be Ricky Stuart as he has a tough call to make.
Who partners Wighton in the halves?
This is perhaps the biggest question facing the Raiders right now and in more ways than one.
In 2020, when Jack Wighton won the Dally M, he was on fire and easily the Raiders' best player.
2021 was a slow start for the entire side but no one suffered more than Wighton when George Williams left.
His departure left a hole in the Raiders attacking cog and all the pressure went onto Wighton as a result.
It was not even so much that he struggled but that the side was unable to step up and find a way to plug that void.
Instead, there were some rather tame performances despite somewhat of a late-season surge.
As for the options available, the man who stepped up in 2020, Sam Williams, seems to be seen as a backup rather than a genuine long-term option.
A target for the Raiders is Jamal Fogarty who was released by the Titans and he could be a handy addition.
Fogarty is not a flashy half but he could be a nice foil alongside Wighton given the two have very different playing styles.
Wighton has always been an off-the-cuff sort of player. Someone who plays what is in front of him and thinks run first.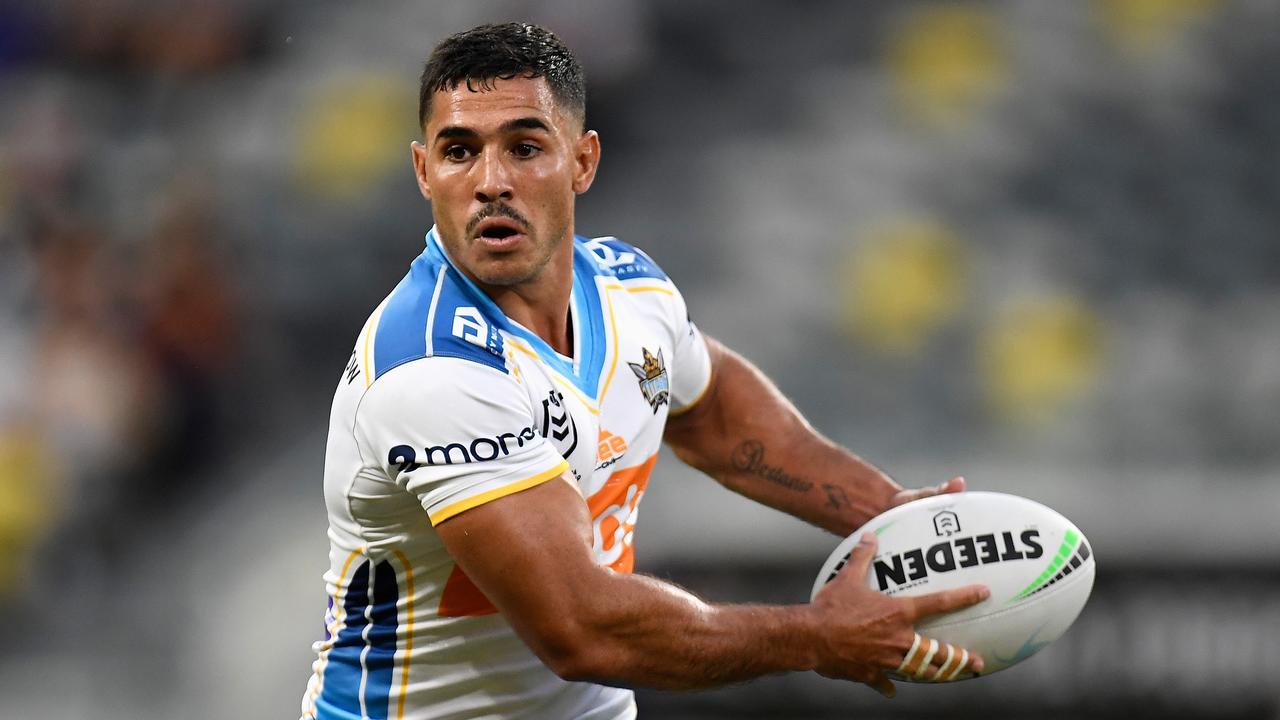 Fogarty, who has been a late bloomer, is someone that can control a game and direct traffic.
If the signing comes to fruition, and if Fogarty is able to dictate games with his kicking and direction, it opens up all sorts of opportunities for Wighton.
And if Wighton can reach the heights of 2020 again, then the Raiders will certainly be a much-improved outfit in 2022.
Is there a spot for Jarrod Croker?
He will undoubtedly go down as a Raiders legend for his longevity, his try and point-scoring feats but is there a spot for Jarrod Croker in 2022?
As 2021 showed us, his body might just be catching up to years of rigorous NRL exploits as he missed a handful of games.
His feats will not be forgotten but the emergence of so many talented youngsters has his spot in jeopardy moving forward.
The likes of Matthew Timoko, Harley Smith-Shields, Semi Valemei and Seb Kris, who all played and had good moments, make sticking with Croker a difficult choice.
The question for Ricky Stuart is whether you stick with experience or blood the youth.
Although Croker has been playing for a long time now, you could argue there is enough experience in the backline should he not play.
The returning Charnze Nicoll-Klokstad and the ageless Jordan Rapana have amassed a large number of games between them.
The added kicker is that if you play Croker knowing you have talented players in the wings, just how do they respond?
They will want to play regular footy and with a chance to do so, do you run the risk of losing some just to appease Croker and utilise his experience?
We certainly do not envy the decisions that Stuart has to make when it comes to the make-up of his side in 2022.
Player to Watch
It should come as no surprise that our player to watch for the Raiders is Xavier Savage.
An electrifying talent, Savage showed in just two games before his injury, that he will be a rugby league star.
With speed, deceptive power, and smarts for the game, Savage will go from strength to strength as he plays more rugby league.
And he has a perfect chance to do that in 2022 given the uncertainty around the Raiders backline.
Such was his form that you would be crazy not to pick him as he is a genuine x-factor.
In a Raiders side that perhaps lacked that dynamism and a point of difference, Savage is a player that can produce something from nothing.
That takes the pressure off the halves and allows the play to be freer and more open.
Put simply, Savage is too good to have sitting on the sidelines.
2022 Canberra Raiders Gains and Losses
Gains: Jamal Fogarty (Gold Coast Titans), Peter Hola (North Queensland Cowb0ys) and Adam Elliott (Canterbury Bulldogs), and Brandon Morkos (local).
Losses: Caleb Aekins (released), Adam Cook (released), Siliva Havili (South Sydney Rabbitohs), Ryan James (Brisbane Broncos), Dunamis Lui (released), Darby Medlyn (released), Kai O'Donnell (released), Curtis Scott (released), Sia Soliola (retired) and George Williams (Warrington).
Our predicted 2022 Canberra Raiders line-up (at full strength)
1. Xavier Savage
2. Charnze Nicoll-Klokstad
3. Jordan Rapana
4. Seb Kris
5. Semi Valemei
6. Jack Wighton
7. Jamal Fogarty
8. Josh Papalii
9. Josh Hodgson
10. Emre Guler
11. Corey Harawira-Naera
12. Elliott Whitehead
13. Joseph Tapine
14. Tom Starling
15. Hudson Young
16. Ryan Sutton
17. Adam Elliott
Coach: Ricky Stuart.