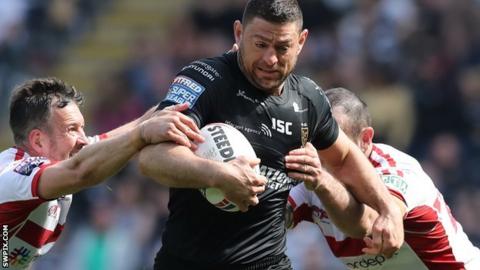 MARK Minichiello isn't one to make a fuss over his lengthy career in rugby league.
He keeps himself to himself, leads a private life and he doesn't sing about his considerable achievements.
But as he prepares to reflect on his 18-year career as a professional, he wears the expression of a man who is about to start a new chapter in his life.
Last month, Minichiello announced that, as many people expected, he will hang up his boots at the end of the season and draw the curtains on a playing career that has seen him play for some of the most historic clubs in the sport.
Depending on Hull FC's success this season, Minichiello has a minimum of just three games left before he leaves the KCOM Stadium and heads back to Australia for a new start.
The 37-year-old's exit will be one of several this autumn, spelling the end of an era for Lee Radford's side and despite his age, he didn't make the decision lightly.
"It's always difficult when you've done something for so long," he says.
"After almost 20 years playing professionally, you never want to give that up, it almost becomes part of you.
"It was a difficult decision but it's one that has to be made.
"You can't play forever that's for sure but I'm still enjoying it and the body still feels good.
"There comes a time when you need to move on and do something else. I feel like this is the right time."
In fact, having picked up a rugby ball at the age of six, the sport has shaped his personality and his life. But will he miss it?
"No one likes doing pre-seasons, do they?" he laughed.
"It's part of the game and I've done almost 20 of them. It's quite strange but I think my body is going to thank me.
"I've already been laughing with the blokes in the dressing room that they'll be doing pre-season next year and I'll be on the beach somewhere.
"This is my 18th full-time season so it's a lot of games.
"Not many players get to play to 37.
"I've had a great time playing the game I love and not many players get to play that long.
"I'll come across different sorts of challenges out of the game and I'll meet them face on and see where that goes."
Prolonging his career for a few more games is at the forefront of the back-rower's mind at present, though.
The Black and Whites sit fourth in the Super League table and should they land a top three spot this season they could be just two games away from reaching the Grand Final.
It would not only be the club's first since losing to St Helens in 2006, but also give Minichiello the chance to end his career with what would undoubtedly be a career high.
Despite featuring for Sydney Roosters, South Sydney Rabbitohs and Gold Coast Titans, the first silverware he got his hands on was the Challenge Cup in 2016.
A Grand Final berth has eluded him in both hemispheres so far, having lost a number of semi-finals, but with time running out, the Super League trophy is firmly in his crosshairs.
"It's something that growing up in Australia you always want to play in a Grand Final because it's the only trophy you play for," he said.
"I know the Challenge Cup is held in high regard here but I believe that Super League trophy is the pinnacle. To win that you have to be consistent and that's something I'd love to finish on."