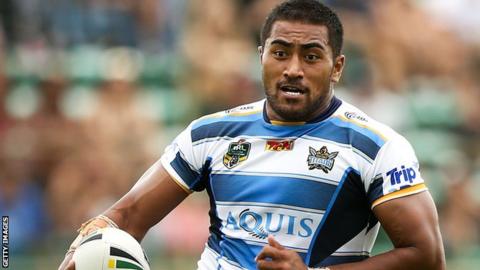 They clearly mean business in their bid to return to the Super League with the Leigh Centurions confirming the signing of Gold Coast Titans forward Paterika Vaivai on a 2-year deal.
In and out of the Titans side at times, when Vaivai was in the team, he performed well, carried the ball hard and did his job.
Born in Salamumu, Samoa, Vaivai had junior stints with both the Melbourne Storm and the New Zealand Warriors, before joining the Newcastle Knights.
After drifting in and out of that team at the first-grade level also, Vaivai left to join the Titans having played just 6 games.
His 2012 Holden Cup season, in particular, was impressive, as he took out the Coaches' Player of the Year Award at the Knights during that time.
Keen to beef up their forward pack, Vaivai is a signing that Leigh head coach Neil Jukes is excited about.
"Paterika is an outstanding signing for our Club," said Jukes.
"He is an unbelievably powerful player and his explosive, direct running style will be really instrumental for our team next year.
"I have no doubt whatsoever that the Leigh Centurions fans are going to really enjoy watching Paterika play for our Club and showcasing his ability."
Equally, the club is excited to have him sign and expect him to make good inroads with the club's fanbase.
"From speaking to him, it is clear that Paterika is a highly motivated player who is really looking forward to coming here and playing his best footy and the Coaching Staff will 100 percent support him in that objective," continued Jukes.
"Again, I'd like to thank (Head Of Rugby) Keiron (Cunningham) for all the work he has done getting this one over the line. We have no doubt that Paterika is going to be a huge fans' favourite."
With a lot still ahead of his career, Leigh owner Derek Beaumont looks forward to watching Vaivai and his growth and development.
"I am really excited by this signing and have been since Kez (Keiron Cunningham) mentioned him to me," said Beaumont.
"The biggest statement this club made when I got back involved was signing a man that good they named him twice, and he was a massive asset to this club and a fans' favourite.
"I hope that the fans get the same excitement from Patty, especially given he is at the early part of his career and has lots in front of him. I can't wait to see him get going for us."